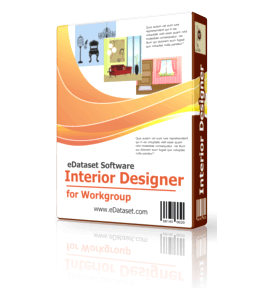 A successful interior designing business depends on creativity and business management skills. But why should the inventive people have a desk full of admin work? eDataset Software brings to you Interior Designer for Workgroup. A matchless software to deal all of your business management issues! This enhanced and improved version of interior designer contains all the usual features of the standards version, along with valuable updates. This software is especially designed to satisfy every interior designer's management requirements. This is a more powerful version of Interior Designer, with all of the features of the standard version, but with the additional capability to share data in real time over the network. Interior Designer for Workgroup offers a bonus for its users by giving them the power to share data in real time over the network. It is a unique blend of management and accounting software. No matter to which design field you belong, this highly advanced software manages your projects and takes care of your accounts. While you are busy transforming an interior space into a suitable set for the variety of activities that are to take place there, this software manages your projects and keeps you organised. It allows people associated with designs and business to standardize their corporate dealings, hence ensuring superior outcomes.
The one of a kind feature of Data Navigator assists a designer to go to the desired date. It also allows one to pre-set and revise reception timings and client and master information. Moreover, it offers the power to decide diverse work ranges. Another attractive feature is the integrated Print Designer. This feature provides several innovative templates and preferences to produce a satisfactory, flawless and ordered printout of your schedule.
This updated version consists of a very convenient interface which calculates and displays the amount charged, allowing you to take prompt decisions regarding your business dealings. Another feature which makes it most wanted is the facility to set reminders. These reminders can be used to keep the workers alert and aware of the tasks assigned and deadlines. While dealing with customers that you have worked with before and who already exist in your database, you can run an automatic search and perform auto-field filling functions.
Another advantage is that you can easily go through your payment details via this program. You can find out the profits of a particular day at any time whenever needed. If you are a Microsoft Outlook user then here's another good news for you! This software permits you to export your data to your Microsoft outlook account. In addition to that, this data transfer can take place in various formats like PDF, TXT, HTML, ML, XLS and iCal, so as to be compatible with a number of other programs. The designers of this software are no different than interior designers, they too take care of every problem that may occur. This is evident by the auto backup function which is ideal to deal with virus attacks and system crashes. Also, it allows you to delete past records automatically.
This software is licensed by Shareware. This feature-filled product comes to you with a Lifetime License. This means that you can upgrade your software for the rest of your life without any charges.
Trial Period: 14 days
Price: $200
System Requirements
To use 'Interior Designer for Workgroup' your computer must have one of the following Windows operating systems:
Windows ME, 2000, 2003, 2008, XP, Vista, 7 (32-bit & 64-bit), Windows 8 Pro
You pay for the program only the first time and get all new versions of this program for FREE and for lifetime!
After completion of payment, you will receive detailed information on the Product Activation in a separate e-mail, which will contain a attached universal key-file.
Updates
If you are a registered user and if you want to update your version, please download files from this page. To implement current upgrade:
1. Back up your current database
2. Install the downloaded version
3. Restore your original database