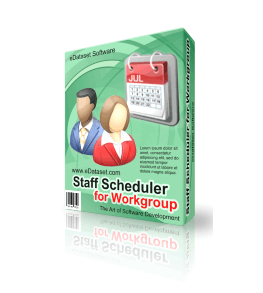 With thousands of concerns containing huge artillery of staff, management and scheduling of these personnel can really be a tough ask. To make staff management easy or to address this problem more effectively, this latest version of staff scheduler software is more powerful and more advanced. This is a more powerful version of Staff Scheduler Pro, with all of the features of the standard version, but with the additional capability to share data in real time over the network. Coming towards the main or the inbuilt attributes of this program, though it is the latest and upgraded version of staff scheduler, the features of the standard version has still been kept intact which allows a multiple experience for those who have already been using the old one.
The most important upgrade to this version is its enhanced ability to share a large stream of data through the network in quick time. Talking about the data entry features, one can easily store both emergency and general data related to contact information or with respect to any update that is needed to be shared throughout the network. The performance evaluations that are taken on a regular basis can be loaded on the software and can be easily recalled based on names or month to check an employee's overall performance. Reminders can also be tagged and the scanned documents can also be loaded on board to avoid the mess of data entry. It also provides you the feature of categorizing the data of your staff with respect to their designations that they hold or with respect to experience, age or other parameters. Work ranges can also be assigned easily to control the flow of work that is assigned to the staff. Tags can be given along with data entries in the form of little descriptions for various purposes. The software contains in built print designer which provides various schedule and reporting templates which can be printed out easily and clearly through different options.
The software also allows you to drive various enterprise and staff evaluation reports throughout the network. You can email, print and publish multiple staff reports and schedules which saves a lot of time. If you are required to print or publish schedules or reports for various shifts, staff or departments on a weekly basis or some regular basis, you won't have to ploy changes in your printout preferences as you can save the desired preferences such as number of days, employees etc so that you can print all of them instantly. You can easily acquire access to any of the employee's information and move between different sections, departments, schedules and reports to manage timings or shift clashes. Users of Microsoft Outlook can instantly export their relevant data in a wide variety of formats such as XLS, HTML, PDF, iCal, XML and TXT. In case of an early purchase of this software, a lifetime license will be provided to the user which means that all the upgrades that are made will be rendered freely throughout the life. Auto backup support feature has also been provided to counter crashes and viruses and it will automatically remove the old archives.
Trial Period: 14 days
Price: $69.95
System Requirements
To use 'Staff Scheduler for Workgroup' your computer must have one of the following Windows operating systems:
Windows ME, 2000, 2003, 2008, XP, Vista, 7 (32-bit & 64-bit), Windows 8 Pro, Windows 10
You pay for the program only the first time and get all new versions of this program for FREE and for lifetime!
After completion of payment, you will receive detailed information on the Product Activation in a separate e-mail, which will contain a attached universal key-file.
Updates
If you are a registered user and if you want to update your version, please download files from this page. To implement current upgrade:
1. Back up your current database
2. Install the downloaded version
3. Restore your original database