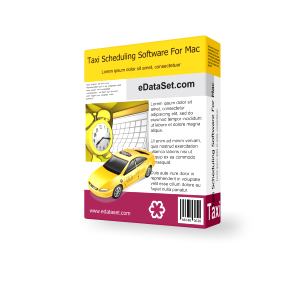 This Taxi Scheduling Software designed specifically to be used on Mac (OS X) is centered towards facilitating management of taxi services for both individuals and taxi service companies. The software is competent in managing easy driver scheduling and bookings for any kind of taxi, limousine or chauffeur services. Taxi services initial requirement is management of time and being accurate on appointments and bookings. The software eliminates the need to maintain strenuous paperwork and scheduling and takes off a very significant responsibility off the shoulders of the manager.
The Taxi Scheduling Software is simple, easy to use and speedy software that is effortless to operate. The main menu consists of four icons, Taxi, Clients, Reports and Scheduler.
The Taxi icon leads to the section where taxi drivers can feed in their details with data of their taxis as well. These details will also include personal information including phone numbers and other contact details. This list can be used to check availability of taxis and create new bookings.
The software also offers the option of calling from the program to Skype and direct phone calls can be made to clients and taxi drivers.
The Clients section similarly stores in all data pertaining to the client including name, address, email and all phone numbers. Direct phone calls from the program can be made at any time. The Taxi Scheduling Software also allows capturing photos of clients and taxi drivers to be saved with their respective profiles to be referred to whenever needed.
The Reports section gives in full details on daily earnings along with a breakdown of earned amount with the service offering taxi mentioned as well.
The Scheduler section appears in form of a calendar that shows all fixed bookings along with the daily earned amount mentioned with respective dates. Viewing this calendar allows easy bookings along with a quick view of already scheduled taxi services to be offered. In addition whenever a particular date is clicked on, it shows all details of services offered, earnings of those services and drivers that performed the job on the specific date. The Scheduler can also be used to find any particular booking of a client that requires changing.
Lastly, to offer a backup solution of the precious data and to make the program compatible with other devices such as Windows Phone and Android, the program offers a significant restoring option that can be availed through installing relevant programs from respective stores.