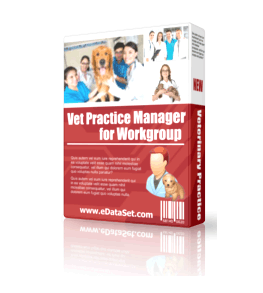 A veterinary practice is a busy practice, full of people, animals and paperwork. It's hard to manage! Finding a software system to keep up with all of the paperwork involved can cause a headache that is equally hard to manage. Thanks to Microsoft however, I think I have discovered a lasting and very inexpensive solution. The Vet Practice Manager for Workgroup Publisher is a fantastic option for small to medium size veterinary practices. This powerful system is designed with added features that allow a vet practice to manage all of their data in real time.
That means that you can input your reception hours, your vet schedule and all other practice management details with a Lifetime License (woo hoo!) all for under $69.95 That is a pretty good deal. I like that the program offers a Print Designer that gives you a lot of different template options. You can create a schedule and print it out which every vet practice I've ever known has truly needed. You also get free upgrades for life which I know will come in handy. The program offers you an interface that lets you calculate the fee charged for clients that you can print out and hand right to them. You can also create reminders throughout the day and print them out.
So let's say I have to go in the back and remember to give one of the animals or several of the animals their meds. Or I have to call some of the owners to remind them to pick up their pets. No problem with this system. I really like the reminder feature, it is one of the better features the system has.
There is also an automatic search feature that allows you to quickly search for customers entered into the database, and features that allow you to view customer data including payments made or customers that need to make payments. Also handy is the daily income information. At a glance you can see how much money is coming in. You can also export this information to an Excel spreadsheet, or to HTML, to iCal or to a similar program. I find the system compatible with a lot of other programs which makes it pretty convenient. There is also a backup function which every practice that handles financial information needs in the case of an attack or power outage, or anything of that sort. You can remove all of the old archives of information relatively easy. On the whole, I would have to say this is one of the best vet practice management software programs available as far as inexpensive systems go. If you know anything about practice management software you will find this one is pretty easy to use, and has a help feature that makes it even easier to learn.
Trial Period: 14 days
Price: $69.95
System Requirements
To use 'Vet Practice Manager for Workgroup' your computer must have one of the following Windows operating systems:
Windows ME, 2000, 2003, 2008, XP, Vista, 7 (32-bit & 64-bit), Windows 8 Pro, Windows 10
You pay for the program only the first time and get all new versions of this program for FREE and for lifetime!
After completion of payment, you will receive detailed information on the Product Activation in a separate e-mail, which will contain a attached universal key-file.
Updates
If you are a registered user and if you want to update your version, please download files from this page. To implement current upgrade:
1. Back up your current database
2. Install the downloaded version
3. Restore your original database