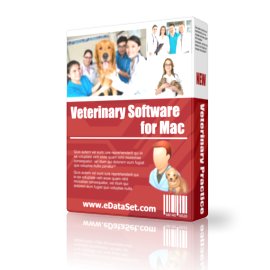 Veterinary software, designed to be used specifically on Mac (OS X) can be efficiently used by mobile veterinary practitioners, as well as equine veterinarians. Veterinarians require maintaining proper records of previous histories related to any animal, as well as fixing appointments for further consultation, checkups and vaccinations. Managing all this information efficiently is critical for any veterinarian to manage his or her practice. The software enables the user to use features such as scheduling, accounting, recording and retrieving of information about all clients. The program can be equally efficient for individual vets or for a clinic where more than one vet serve sick and needy animals.
The easy and simple to use interface allows instant operation of the program's main menu icons including Veterinarians, Clients, Reports and Scheduler.
The Veterinarian section holds in profile of every Veterinarian in a clinic where all his/her personal information can be saved including specializations and contact details. Viewing this information, the right specialists can be referred to a client and based on his/her commitments new appointments can be fixed instantly.
The Clients section holds in all information about the clients such as emails, address, phone numbers, etc. Also the program allows adding in comments related to any history or special directions to be referred to from the last checkup/appointment. The history can be quickly viewed by the veterinarian for further consultation.
To make contacting clients easier, the program offers the option of directly calling on the client's Skype ID besides making phone calls directly using the saved numbers in the database. Additionally, photos of both clients and veterinarians can also be saved in the program alongside other recorded information.
The Reports section presents an efficiently compiled financial description, presenting the total daily earning, with details of the jobs performed as well.
The Scheduler opens up in form of a calendar that shows not only job details but also the daily earnings. The corner of every date shows daily earnings and further clicking on the date reveals details of earnings including the job description. The calendar makes it easy to check available time and schedule new appointments.
Also to offer users a backup solution and to make the program compatible with other phones such as Android and Windows Phone, the program is made compatible with other devices as well. To avail this option user will require installing specific programs from respective stores.