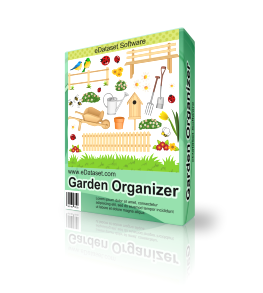 Garden Organizer is the best way to organize and manage garden chores, activities and all other related information. Those who are not expert in using computers for the management of their personal garden or their garden business can easily benefit from the intuitive and easy interface of the Garden Organizer. The software offers ready to use solutions for all garden management related organization and is very easy to use.,
The software allows the provision of cataloging all your favorite plants in the software with their names, attributes, any special or general description, specific maintenance notes for every plants and even their pictures, besides several other related things.
The software also allows storing of information pertaining to different garden solutions and even maintenance of notes relating to your desired landscape design or any common gardening problem that you encounter often.
The software is exceptionally useful for the organization of gardening projects and their regular maintenance tasks along with organization of other contacts related to your garden. Through using the Garden Organizer you can also line up and organize all web garden resources including the best internet garden resources.
Not only is the Garden Organizer an easy to use and simple software that tremendously helps in managing all garden affairs rather it is one source that proves itself efficient and effective in meeting all challenges relating to garden journal entries, track of all plants, and management of graphic landscape design as well.
The software also comes with a built in scheduler that allows perfect management of time and appointments in an efficient manner to make things more convenient, the option of dragging and dropping plants on convenient time slots is also available in the program making it convenient to make and remember appointments.
Also those individuals who require converting their entire graphic and text data into HTML can do it using the feature in the Garden Organizer. The program also offers the benefit of synching exported data in it in several different formats including XML, TXT, XLS, HTML and iCal making it convenient to adapt to several other programs. The feature of auto search and auto field filling of a plant is also available among those present in the database. Viewing daily expenses aggregately or on a day to day basis is also possible whenever you require it. The program can also print out instantly whatever information you want from within the program.
Trial Period: 14 days
Price: $49.95
System Requirements
To use Garden Organizer your computer must have one of the following Windows operating systems:
Windows ME, 2000, 2003, 2008, XP, Vista, 7 (32-bit & 64-bit), Windows 8 Pro, Windows 10
You pay for the program only the first time and get all new versions of this program for FREE and for lifetime!
After completion of payment, you will receive detailed information on the Product Activation in a separate e-mail, which will contain a attached universal key-file.
Updates
If you are a registered user and if you want to update your version, please download files from this page. To implement current upgrade:
1. Back up your current database
2. Install the downloaded version
3. Restore your original database