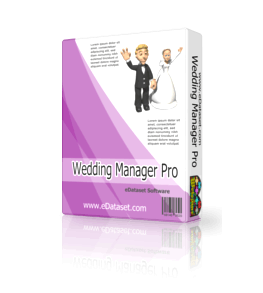 Wedding Manager Pro as the name suggests is software which has been designed to serve event managers and wedding planners. The software is unique and is not something which you can find with many software development concerns. Before going towards some of the more specific features that have been formulated in it, let' first just talk about the operating systems that it supports or is compatible with. Starting from the way back to Windows XP it is compatible with Windows 7, Windows 8 and with Windows 10. This means that the software has been designed for a wide stream of users.
Now coming towards the navigation features of this software, it features a data navigator which allows user to access their data easily no matter how large your data base is. Data can be searched with reference to the clients name or even a date on which it was entered. Once you have got your desired data, you can easily edit or update it to your liking. The program also provides the feature of setting up numerous distinct work ranges which improves the efficiency of management of its user.
A print designer has also been incorporated into the program which provides a large variety of unique templates for easy use. The print designer contains numerous easy to understand and use option through which you can get a clear and fine printout of any of the data or schedules that you want. Before going further into its traits, let me inform you that if you purchase this product now, you will avail a lifetime license which will allow to you get all the updates or upgrades without any charge throughout your life.
Moving on, the program has an inbuilt handy interface which allows easy calculations and shows the fee charged. This feature enables event and wedding planners to make effective and quick decisions with clarity. A feature of reminders has also been provided which allows the planner to set different reminders of tasks to be performed. Automated search options and auto filling of fields for customers that are already present on the database is another trait that has been incorporated. One can easily track the past data of income with respect to dates and months and this allows you to graph your performance with respect to income. People using Microsoft outlook can easily export their desired data for formats such as XLS, iCal, TXT, PDF, ML, HTML so that such data can be utilized for other programs.
To provide protection, a function known as Auto back has been provided which in case of any virus attacks or crashes automatically removes the old archives.
So overall it's an effective tool which facilitates easy, reliable and effective management of both simple events and events that involve various complexities.
Trial Period: 14 days
Price: $49.95
System Requirements
To use Wedding Manager Pro your computer must have one of the following Windows operating systems:
Windows ME, 2000, 2003, 2008, XP, Vista, 7 (32-bit & 64-bit), Windows 8 Pro, Windows 10
You pay for the program only the first time and get all new versions of this program for FREE and for lifetime!
After completion of payment, you will receive detailed information on the Product Activation in a separate e-mail, which will contain a attached universal key-file.
Updates
If you are a registered user and if you want to update your version, please download files from this page. To implement current upgrade:
1. Back up your current database
2. Install the downloaded version
3. Restore your original database