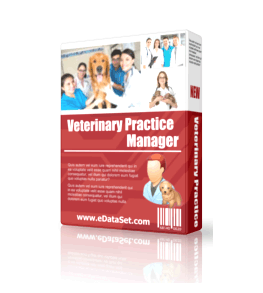 For the veterinarians, here comes Veterinary Practice Manager, a time management software aka scheduler software dedicated to the veterinarians. The software has rich set of features, which are immensely beneficial for the meeting the professionals needs of veterinarians. There is different scheduler or time management software available in the market. Professionals from different fields use that software for keeping track of their appointments, meetings, to-do-tasks etc. to busy professionals, scheduler software are of extreme importance. However, "one size does not fit all"; and that is why customization or tailoring of software always matters. Developers working at eDataset Software recognize the need for & utility of software tailoring or customization; and accordingly that renowned software developer company has developed quality software, which is dedicated to the veterinarians. That software is being marketed with the name of "Veterinary Practice Manager". The rich set of features that come with this software package, makes this product worthy to look into.
With "Veterinary Practice Manager", veterinarians can effectively schedule all of their visits. Every appointment with the clients can be conveniently input in this software. While entering an appointment schedule in this system, critical data of respective clients along with date & time can also be entered. If needed, in the future, appointment data can be edited with ease. Veterinarians with large client base, can group their clients under different distinguishing categories; this categorization helps veterinarians in planning and estimating the required time & resources. After fixing of appointments, veterinarians can take a print out of the fixed appointment. The software has a built-in print designer, which helps in printing the fixed appointments with different attractive printing templates. There is also a built-in calculation unit. That calculation module has a convenient interface; veterinarians can quickly calculate the fees or service charge associated with an appointment or an instance of service delivery. For taking prompt decision, this facility is very helpful. Veterinarians, who have multiple associates helping in day to day activities, can utilize this software to get their associates alert on approaching appointments or critical tusks. Therefore, this software package is useful for entire workforce that belongs to a veterinarian.
Veterinary Practice Manager comes with a built-in database, which helps in proper organizing of all data related to appointments and clients. For finding a specific client out of a large number of existing clients, veterinarians can take help of the search option. For convenient input of appointment or scheduling data, there is auto-field-filling feature; that feature suggests names or piece of information registered already in the database, with every keystroke made during registration of new clients or appointments. With this software, it is also possible to keep track of daily payments and revenues. Just by inputting a specific date in the system, details of payments and revenues respective to that day can be viewed.
For portability and compatibility with other software, veterinarians can utilize the data export feature. With this feature, data, which is kept under this software, can be exported to different formats like pdf, XLS, txt, html, iCal etc. To minimize the threats of virus and sudden system crashes, there is auto back up facility.
This stunning software package, available only for Windows OS, comes with an unbelievable price of 49.95 USD. To make the package more attractive, every buyer is now being offered life time license leading to guaranteed lifelong free upgrades.
Trial Period: 14 days
Price: $49.95
System Requirements
To use Veterinary Practice Manager your computer must have one of the following Windows operating systems:
Windows ME, 2000, 2003, 2008, XP, Vista, 7 (32-bit & 64-bit), Windows 8 Pro, Windows 10
You pay for the program only the first time and get all new versions of this program for FREE and for lifetime!
After completion of payment, you will receive detailed information on the Product Activation in a separate e-mail, which will contain a attached universal key-file.
Updates
If you are a registered user and if you want to update your version, please download files from this page. To implement current upgrade:
1. Back up your current database
2. Install the downloaded version
3. Restore your original database