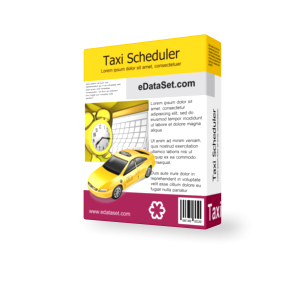 Taxi Scheduler is an efficient and easy to use Taxi Scheduling Software for taxi drivers. The software is efficient to be used by any taxi, limousine and other chauffeur businesses as it allows ease in management of bookings with a lot of ease. The Taxi Scheduler is an excellent management enabler for scheduling of vehicles for drivers.
The program allows cataloging of all taxi cars or vehicles, along with storing of all information relating to different cars and drivers along with entering notes relating to car taxi problems. The program is also efficient for organization of taxi maintenance tasks along with organization of all taxi client contacts.
The scheduler that is built in the program allows proper and easy management of all appointments along with management of all working hours in the most possible efficient manner. Dragging and dropping of taxi vehicles in available and appropriate time slots is also possible in the software making it possible to make appointments easily and conveniently.
The program other than storing information and facilitating taxi drivers in managing time and vehicles also allow easy conversion of the entire data in the program available in text and graphic form into HTML. People who work using Microsoft outlook can synch their data in the program and export it from other formats as well including HTML, XLS, XML, TXT and iCal. This makes it easy to adapt to other programs.
The software also offers the option of auto field filling and automatic search for any client whose records have been stored or entered in the database of the software.
In addition to facilitating management And organizing features for taxi scheduling, the software also offers its users the benefit of checking all information relating to daily expenses and income, both in aggregate form and on a day to day basis. This information can be derived whenever the need arises.
Also the software offers the option of printing any information in a swift manner making it easy to have physical records as well.
Trial Period: 14 days
Price: $49.95
System Requirements
To use Taxi Scheduler your computer must have one of the following Windows operating systems:
Windows ME, 2000, 2003, 2008, XP, Vista, 7 (32-bit & 64-bit), Windows 8 Pro, Windows 10
You pay for the program only the first time and get all new versions of this program for FREE and for lifetime!
After completion of payment, you will receive detailed information on the Product Activation in a separate e-mail, which will contain a attached universal key-file.
Updates
If you are a registered user and if you want to update your version, please download files from this page. To implement current upgrade:
1. Back up your current database
2. Install the downloaded version
3. Restore your original database