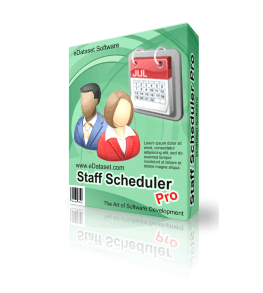 Nowadays, employees are regarded as one of the most vital components that the success of business is greatly dependent on. For optimal profitability and productivity, businesses must employ capable employees. However, if the activities of employees are not managed efficiently and effectively, there is no benefit of having skilled employees. To help businesses in managing employees, eDataset, a renowned software developer company, has come up with employee management software of superior quality. That software is branded as "Staff Scheduler Pro"; a large set of features is attached to this stunning package. Employee management becomes an easy task, if Staff Scheduler Pro is utilized by businesses. Proper Scheduling of employees' activities is essential for enhanced productivity and profitability. With Staff Scheduler Pro, each and every employee can be assigned to a set of activities that are to be performed in different dates and times. Contact details of all employees can be preserved in the database that comes In-built with Staff Scheduler Pro. A reminder can be set against specific tasks or employees, so that no vital assignment is left forgotten or missed. As the date or time for a specific task approaches, the reminder feature comes into action, and issues alert. Businesses can keep the records related to Former employees in a separate category with this software. Records of activities performed by former employees are often helpful for confronting legal consequences.
This employee management program facilitates storing of scanned documents. With this feature, important documents, respective to employees, such as photographs, letter of recommendations etc can be stored against respective employee accounts.
For evaluation of employee's performance, businesses periodically run performance appraisal sessions. The reports produced by those performance appraisal sessions are important for estimation of salary, bonus and commissions to be paid to employees. Preservation of such significant reports is made easy with Staff Scheduler Pro. Businesses need to take printouts of information related to particular employees on different occasions. To make the printing process easy and more effective, a built-in printing module is attached to Staff Scheduler Pro. That printing module has several attractive templates that can be used to print documents in a number of ways or formats. To help in calculations, there is a nice interface attached. That calculation module helps in quick calculations of fees or prices specific to employees' activities. Businesses can record the revenues collected by each employee with this system. This is also true for expenditures. Upon requirement, detail records of revenue and expenditures on any specific date are displayed by this program. Thus, businesses always remain in the control of financial activities performed by their employees. A stable database is attached to this software. With the convenient searching facility, any information on any employees can be tracked in twinkle of eyes. The database driven auto-filling feature that is built in this software, is helpful for efficient data input. To recover from sudden system crashes, there is an auto back feature. For enhanced compatibility with other software, businesses can utilize the data export feature. The available out formats include XLS, pdf, html, TXT, iCal etc. The price of this employee management program is very rationale; only 49.95 USD is charged for each copy. Currently, life time license is issued with every purchase of every copy of this software.
Trial Period: 14 days
Price: $49.95
System Requirements
To use Staff Scheduler Pro your computer must have one of the following Windows operating systems:
Windows ME, 2000, 2003, 2008, XP, Vista, 7 (32-bit & 64-bit), Windows 8 Pro, Windows 10
You pay for the program only the first time and get all new versions of this program for FREE and for lifetime!
After completion of payment, you will receive detailed information on the Product Activation in a separate e-mail, which will contain a attached universal key-file.
Updates
If you are a registered user and if you want to update your version, please download files from this page. To implement current upgrade:
1. Back up your current database
2. Install the downloaded version
3. Restore your original database