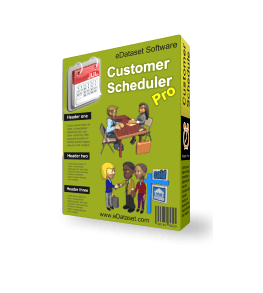 For efficient and effective dealing with customers , every business have to specific details of its customers. In this age of information technology, manual recording of customer data is not a viable or rationale idea. Businesses are increasingly adopting specialized software for automation of customer relationship management (CRM). Among different CRM software that is available in the market, the Customer Scheduler Pro can be considered among the best ones.
This software has a nice and convenient interface for input of contact details of customers. Besides contact information, other information related to specific customers can also be stored using this software. You can store performance reports against each and every customer. If you need to store any scanned documents against the account of any customer, then you do that job effectively with this software.
There is a reminder feature, associated with the program, that alerts the respective business on critical events or tusks to be done date or time. A data navigator is also there; with data navigator, users of this software can browse different events and appointments fixed against different dates date. Users can pick up any specific events or appointments on any date, and then can make necessary modification to those.
Categorization of clients or customers is also facilitated by this stunning software. Based on specific characteristics or traits, businesses can categorize their customers in to several classes. This classification is often helpful for effective customer relationship management.
Often businesses require having hard-copy or printouts of schedules. Customer scheduler pro has a built-in printing module; with that module, schedules can be printed in different attractive templates.
This software comes with a built-in database; all the customer data are stored in that database. While inserting any customer related info into the system, this intelligent software can provide assistance for auto filling of input fields, with the help of the data already stored in the database. This auto-filling feature is quite helpful for quick and efficient input of large amount of data.
For tracking data wise revenue and expenditure, this soft also have necessary facilities. Thus the businesses can have controls on financial scenario and activities. Prompt action can be taken, if the respective businesses find any vital discrepancy in the revenue and expenses.
Customer data is vital for profitability and productivity of businesses. Loss of customer data may result in devastating consequences for respective businesses. That is why; customer scheduler pro has automated data backup system. And upon requirement, old or unnecessary data archives can be removed.
For data portability and compatibility with different software, a built-in data export feature is there. That feature allows export of data to different formats, such as XLS, PDF, iCal, TXT, HTML etc.
This program comes with a price of 49.95 USD. At this price, buyers can get life time license against each copy.
Trial Period: 14 days
Price: $49.95
System Requirements
To use Customer Scheduler Pro your computer must have one of the following Windows operating systems:
Windows ME, 2000, 2003, 2008, XP, Vista, 7 (32-bit & 64-bit), Windows 8 Pro, Windows 10
You pay for the program only the first time and get all new versions of this program for FREE and for lifetime!
After completion of payment, you will receive detailed information on the Product Activation in a separate e-mail, which will contain a attached universal key-file.
Updates
If you are a registered user and if you want to update your version, please download files from this page. To implement current upgrade:
1. Back up your current database
2. Install the downloaded version
3. Restore your original database